This is the best breakfast you will ever eat!
Breakfast Pizza
So first thing is first - you need to think what you're favorite pizza topping is. The ones I suggest using are: red peppers, broccoli, mushrooms, black olives, onions, and pizza cheese.
Then you need to get frozen pizza dough. Defrost it
Flatten out your pizza dough.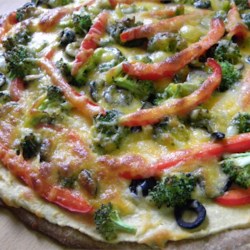 Then you want to sprinkle cheese over it - generously. Then add your diced veggies
on top of the cheese.
Bake in oven at 450 for 10 minutes.
Serve!