This recipe is delicious. If you love salmon then you will LOVE this. If you love tomatoes then you will LOVE this. If you don't like tomatoes or salmon you will LOVE this. Basically, no matter what you will LOVE this recipe.
2 pieces of salmon
1 large tomato - diced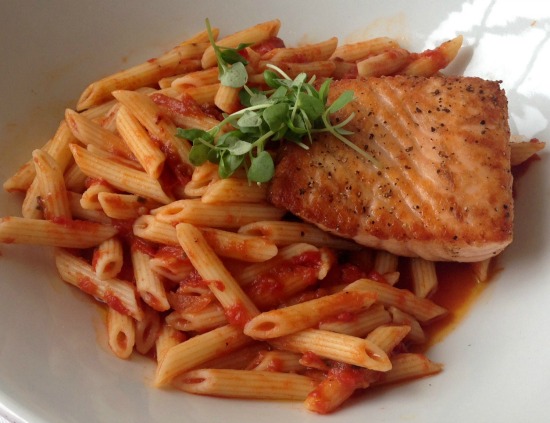 1/4 tsp. oregano
1 clove of garlic
1/4 tsp. salt
1/2 onion - chopped
1/2 pound of Penne (half a box)
marinara sauce
Parmesan cheese
lemon juice
olive oil
1. punch the salmon with a fork and pour a little bit of olive oil and lemon juice and some salt on top of the salmon. Bake for 25 minutes
Meanwhile - boil water and pour in pasta. allow it to cook for 10 minutes.
Meanwhile - dice the onions and tomatoes and crush the garlic. Pour the garlic, tomatoes and onions into a pan and cook in olive oil until its translucent.
Once the pasta is done mix in some marinara sauce and Parmesan.
Place the pasta in a bowl place the salmon on top and then pour your tomato, onion and garlic mixture on top. Sprinkle with oregano.
Serve! Yum!