This recipe I made a while ago. The first I made this it was after a long hot day. We had been at work all day and working with kids in the hot sun. I work at a soccer camp where I coach little kiddos all day. It's fun but very tiring. After a long day this meal hits the spot. It isn't super healthy but it's just mediocre. Each serving is about 300 calories. Enjoy!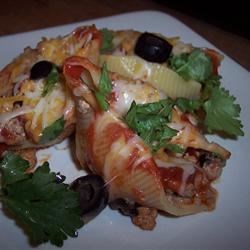 Mexican Stuffed Pasta Shells
1 pound of whole wheat pasta shells
1 cup of organic marinara tomato sauce
1 package of Morning Star crumbles
1/2 tsp. of garlic powder
1/2 tsp. onion powder
15 oz. can of black beans
15 oz. can corn
8 oz can of black olives
2 tbsp. fresh parsley
A couple of dollops of sour cream
2 cups of shredded cheddar cheese
1 tomato (seeded and chopped)
1. Cook the whole shells until Al Dente (6 minutes)
2. Set aside and let cool - while it is cooling:(Preheat oven 350)
- heat the Morning Star with the tomato sauce and once the sauce is room temp. add the garlic powder and onion powder and then add in the black beans, chopped tomato and corn.
- place the shells in pan and put 2 tbsp. of the bean mixture in each shell. Then add olives to each shell. Cover the shells with cheese.
3. Put in oven for 40 minutes. Garnish with parsley and sour cream
Serve and Enjoy! (Serves 6)