I think french toast is one of the easiest things to make. If you think about it all you need is bread, eggs and either jelly or syrup; all of which are basics in almost every household. I wanted to think of something different, something with spunk. I knew there had to be another recipe out there besides for bread and eggs. Do you think that when you go to IHOP or some fancy breakfast buffet at an expensive hotel they serve french toast prepared like that? I don't. So here's what I came up with:
French Toast with Spunk
4 medium slices of water challah (this is the best because it doesn't have any egg in it)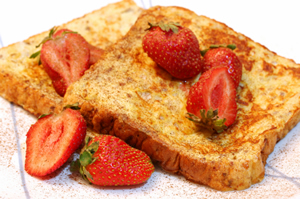 2 large eggs
4 tbsp. low fat milk (truthfully what ever you have is fine)
1/2 tsp. cinnamon
1/4 tsp. sugar
2 tbsp. of your favorite jelly
3 large strawberries- sliced in half.
1. beat the egg
2. add in the milk, cinnamon and sugar
3. drench each slices of bread in the egg mixture and place it on a preheated skillet
4. cook each side of bread for 4 minutes on low- flip over 3-4 times.
5. place french toast on plate and top it with strawberries, serve jelly on the side
I promised you breakfast and french toast will never be the same!