Nutella Cookies
So I was at home feeling bored and trying to think of what to do. I wanted to bake something - but what?
I know my mom loves Nutella and that is when I thought of baking Nutella cookies. I looked up a peanut butter recipe that looked amazing and just substituted Nutella for peanut butter and the cookies came out amazing! Here's the recipe:
1/2 cup sugar
1/2 cup packed light brown sugar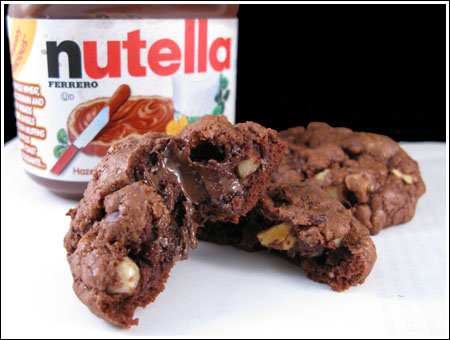 1/2 cup of butter- melted
1/2 cup of Nutella
1 large egg
1 1/4 cup flour (I used whole wheat)
3/4 tsp. baking soda
1/2 tsp. baking powder
1/4 tsp. salt
1/2 cup crushed cashews- optional
1. Melt the butter
2. Mix the sugar, brown sugar, flour, baking soda, baking powder and salt
3. Add 1 egg, melted butter to the flour mixture
4. Then add in the Nutella
5. Mix well- cover and put in fridge for 1 hour
Preheat oven to 300*
6. Add in cashews
7. Lightly grease a pan
8. Form 2 inch size balls and place down on pan and the flatten
9. Bake in the oven for 20-25 minutes
Let stand for 15-25 minutes.
Enjoy!